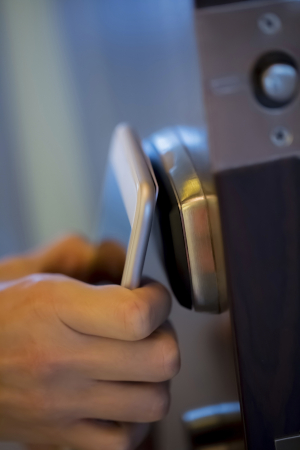 A hotel that uses key access cards for the rooms can go through quite a few of them each month because of guests that do not return them. While the majority are left behind and brought to the front desk by housekeeping, those that end up going home with the guests need to be replaced. While they aren't exceptionally expensive, it is a hassle to keep purchasing them, not to mention encoding each one and dealing with guests that have lost theirs or cannot get one to work for some reason.
A solution to this concern is to offer mobile credentials to your guests. With this type of system, they can just put the app on their smartphone and use their phone to access their room. Since most are unlikely to lose their phone, they won't be needing your front desk personnel to give them more keycards.
With the software that is part of a mobile credentials system, you have control over when guests can access a room. This type of system can work along with a typical keycard setup so that those guests that do not have a smartphone or choose not to use the system can still have access to their room.
Another advantage of a mobile credentials system is that guests love them and will often remain loyal to a particular chain when they have this convenience. You can set yourself apart from other lodging in the area this way and reduce your vacancy percentage.
If you would like to know more about a mobile credentials system for your hotel, motel, or another type of business, reach out to us at i-Tech Security and Network Solutions. We would be happy to help you have a secure operation and take part in a mobile access system that provides you with the benefits outlined and perhaps even more! Call today to schedule a consultation to learn more.