Security and technology services to give you the comprehensive support your company requires.
At i-Tech Security and Network Solutions, it is our goal to be your go-to resource for as many security, access control, technology and camera system services as possible. We know that no two businesses are the same, so we have an extended list of services that will resolve whatever special situation you have in mind. In addition to access control systems and camera systems, we also offer other services such as structured cabling, underground trenching, alarm systems and monitoring, biometric readers, IT services, conduit pathways, electrical services, networking, video analytics, license plate recognition and security consultant services. Don't hesitate to ask us about any services that you might need, and we'll be happy to let you know if we can be of service.
Get in touch today for a quote!
Reliable and trusted commercial security solutions
At i-Tech Security and Network Solutions, we provide service and installation for a wide range of customers, including healthcare, education, manufacturing, industrial and retail. We specialize in being the one resource for our customers for all their security and technology needs.  Most companies offer customers one system, or cabling, or don't care to assist customers with a full turn-key solution. We are different; you will notice when we are called in that we are evaluating all your needs during the initial discussion to determine how we can help with all your systems and cabling. Customers in North Carolina have noticed when they hire our team at i-Tech Security and Network Solutions that pricing is better compared to hiring multiple contractors. We offer discounted pricing for customers when they allow us to handle multiple systems.
We love to solve problems with security and technology hardware and software. We get called in by many other companies to assist with technical issues, projects with tight schedules, and projects that require fast resolution. Most companies don't operate like i-Tech Security and Network Solutions; we make things happen, and our customers know it. We treat every service call and customer request like an emergency. As soon as we are notified of issues, service needs or new products needed, we act fast. We immediately create tickets in our system, and our customers receive an email from one of our team members outlining the needs, providing a rough ETA for service, repair or installation, and providing a single point of contact until the request is completed. Nothing makes our company and employees feel better than to resolve issues, especially when other contractors can't.
One Story of Success
We got a call from a customer in the Queens area of South Charlotte. The customer was in desperate need to fix their front door to a high-end condo complex. Residents could not unlock the front door with cell phones though a standalone call entry system when guests arrived. The system worked previously before a new access control system was installed by another contractor, which was a national security company. The national security company told the customer they did not know how to resolve the issue several times, which caused problems for residents for about 2 weeks. The customer reached out to us at i-Tech Security and Network Solutions and explained the issue they were having. We mobilized a tech in a van that we keep stocked with a wide range of parts for service and repair. We identified the root cause of the issue and resolved it within about 4 hours. The other security contractor did not understand the basic concept of wet and dry relays being shared among multiple systems. We took on a new customer that day for any future service or issues due to the fact a national company could not resolve issues and caused a lot of stress for our customer's tenants.
We love resolving issues and take on every issue as a challenge. We would never tell a customer something cannot be resolved. Customers may not want to spend the money, but all issues have a resolution.
Here is a direct link to some of our services for your convenience:
We're here to help with all of your security and networking needs!
i-Tech Security and Network Solutions installing emergency phones for a parking lot in Raleigh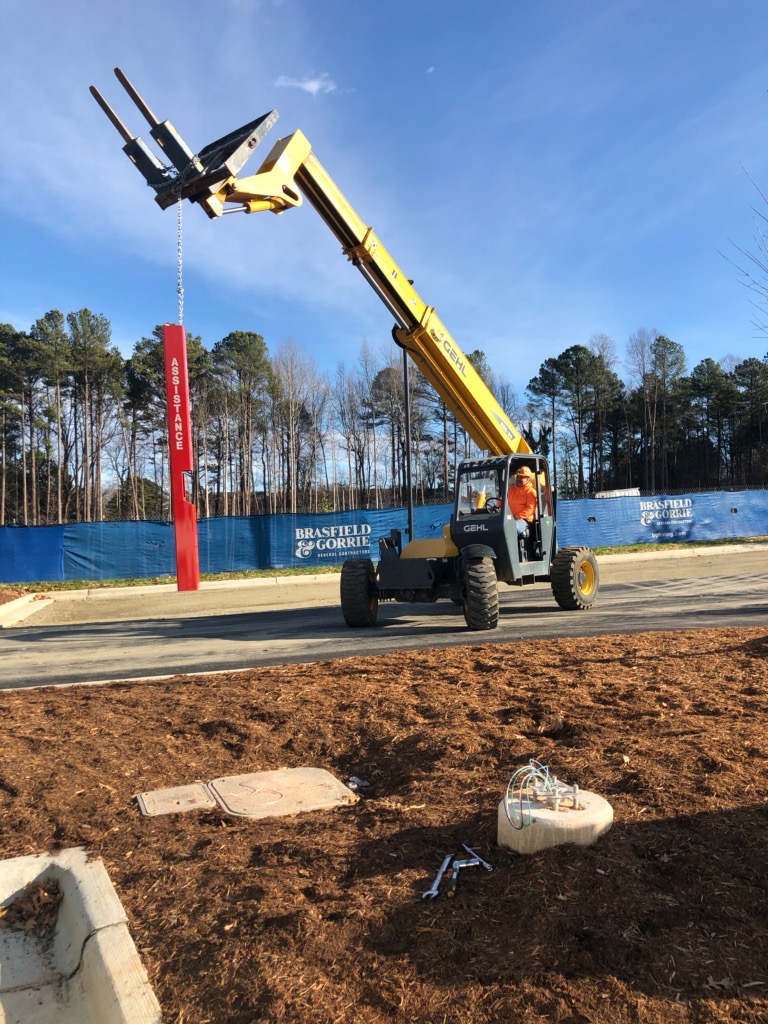 ---
At i-Tech Security and Network Solutions, we proudly serve Durham, Greensboro, Raleigh, Winston-Salem, Asheboro, Burlington, Chapel Hill, Charlotte, Clemmons, Concord, Kernersville, Lexington, High Point, Elkin, Fayetteville, Salisbury, and Thomasville, North Carolina, and Washington, D.C.
Similar Services We Offer: