Our data cabling services will improve your network infrastructure now and ready you for the future.
If you have office space, healthcare facility, data center or other commercial facility, you are probably aware of the importance of data cabling due to industry standards for this type of building or facility. What you may not realize is that achieving the right infrastructure of data cabling in these types of buildings is not always easy, and it is critical to the success of the businesses that are built around them.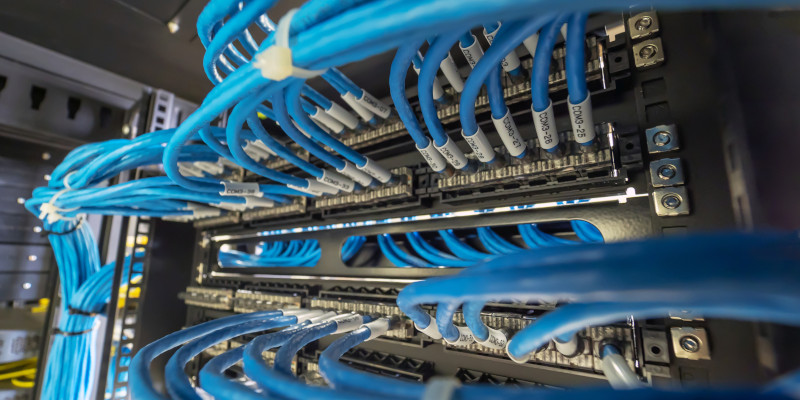 Here at i-Tech Security and Network Solutions, you can rely on us to complete your data cabling to the highest standards. We will get it done right the first time, using the best manufactures of data cabling for your needs to ensure lifetime warranty of the products installed. This will provide you with the network stability and infrastructure that heavily used spaces need.
Looking at the long term, getting the best Cat6 data cabling or Fiber now is good for the future as well. Proper installation now will make future upgrades easier. Trust us to help transport your information faster, with fewer interruptions and fewer future service calls for network problems. We can provide Cat6 data cabling and fiber for many types of buildings, including corporate headquarters, industrial spaces, healthcare facilities, educational buildings, manufacturing spaces and distribution centers. Warehouses were once big, empty spaces, but with the advent of online ordering and other technologies, warehouses are now state-of-the-art facilities with all sorts of security and networking needs.
Contact i-Tech Security and Network Solutions
If you are looking for Cat6 or Fiber installations in Winston Salem, Greensboro, Raleigh, Charlotte or other Service Areas, contact us today.
When you call us here at i-Tech Security and Network Solutions, we will help plan, design and execute the systems you need for success today and for years to come.
---
At i-Tech Security and Network Solutions, we offer data cabling service in Durham, Greensboro, Raleigh, Winston-Salem, Asheboro, Burlington, Chapel Hill, Charlotte, Clemmons, Concord, Kernersville, Lexington, High Point, Elkin, Fayetteville, Salisbury, and Thomasville, North Carolina, and Washington, D.C.