What is Cloud Based Access Control.
Cloud Based Access Control System is a hosted Access Control System that eliminates the need to have some hardware and servers physically onsite. You may have limited space, or don't want to pay for the expense of a server or controller software. If you chose a cloud based access control system, you could save some cost on the front side and pay a monthly or yearly fee to a hosting provider. You can have unlimited doors and sites connected to the cloud based access control system. Most people would know the difference in the system since it is browser based and has mobile access.
Providing top-notch security for all of your business needs
If you have multiple sites you would like to add access control to, you can accomplish the same concept with a traditional IP Based Access Control System. A controller would reside within one of your sites and i-Tech would deploy IP based door controllers to manage door devices. Most IP based door controllers are POE and can utilize your existing POE switches to minimize extra equipment needed.
Contact i-Tech Security and Network Solutions
Here at i-Tech Security and Network Solutions, we know that you can't be at your business or commercial property all the time. Still, whether you are sitting in your office or on vacation, you want an exceptional security system that will keep your investments safe and only allow access at your discretion. That's exactly what you will get when you rely on us to install and maintain your cloud-based access control system in North Carolina.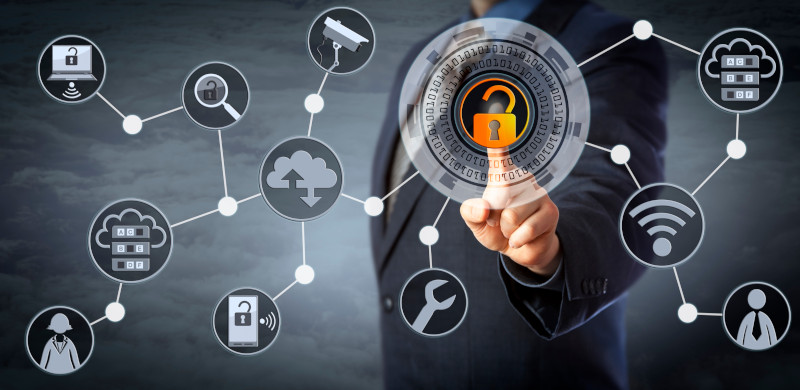 If you aren't used to the world of modern security and networking, all the options and variations can seem like a foreign language. You can trust our experience and expertise at i-Tech to give you the services you need that will fit both your business objectives and your budget. We will work closely with you to give you the cloud-based access control and other features you need to stay up to date with the latest and greatest technologies.
Simply better security for your location with Brivo.
Simply and conveniently control your location's keypads, badges and card readers, gate motors and controls, pedestals, and fencing with Brivo, the right cloud-based access control system for your company's ongoing security. We proudly standardize all our access control systems to run with Brivo because of their better and safer management platform. With Brivo, you can:
Automate your access control system to save time and reduce work
Simplify your access control system to easily manage it from one convenient system
Secure your access control system, so you remain in control at all times
On one user-friendly platform, you can set times for entrances and alarms, grant different levels of user access, get event alerts and view real-time video, and receive event data in easy-to-interpret reports. Improved security at your warehouse, facility, retail site, or office starts at your front door, so you need access control solutions that always work like they should when they need to.
Our team at i-Tech Security and Network Solutions implements best cybersecurity practices to dictate how we deploy Brivo and help you manage your business. The result is a safer workplace for your clients, colleagues, and suppliers with minimal effort on your end.
Automate, simplify, and secure your access control system with Brivo. From simple to complex, we can help you automate every component of your location's access control. For an access control quote or to find out more about the undeniable power of Brivo, contact us today.
Here are some of the options we can discuss as we design your unique system for your needs:
Keypads
Badges and card readers
Intercoms and video monitoring systems
Pedestals and fencing
With cloud-based access control, you will be able to monitor your entrances, limit access to certain areas and view any needed logs and reports. Whether you are a brand-new business or looking to upgrade your system, we can design a system that will grow with you and have the flexibility and options you need to easily manage your daily operations. You can rely on us for fast installations, fast responses and quality communications along the way. Give us a call today to discuss your commercial security needs in North Carolina. We provide services to all major cities including Winston Salem, Greensboro, Charlotte, Raleigh, Durham, Chapel Hill, Salisbury and other locations in and around our service areas.
We're here to help with all of your security and networking needs!
---
At i-Tech Security and Network Solutions, we offer cloud-based access control systems in Durham, Greensboro, Raleigh, Winston-Salem, Asheboro, Burlington, Chapel Hill, Charlotte, Clemmons, Concord, Kernersville, Lexington, High Point, Elkin, Fayetteville, Salisbury, and Thomasville, North Carolina, and Washington, D.C.