We pride ourselves on doing your structured cabling correctly the first time.
The infrastructure of your network starts with structured cabling, whether using Cat6, Coax, or Fiber, making sure it's done right on the front end is crucial to the stability of any network. Messy, unmanaged cable installations can cause ineffective or unreliable networks. The best way to avoid these issues is with the low voltage structured cabling services we offer here at i-Tech Security and Network Solutions. Whether you are a new business needing cabling installed, needing moves adds or changes or you need to get your current system functioning more reliably and be more organized, we can handle everything from the design to the installation of your structured cabling, including cable certification. We offer a wide range of network cabling including Cat 6 and fiber optic cabling, fiber splicing, fiber terminations, fiber certifications with OTDR, outside plant cable repair and utility locating services.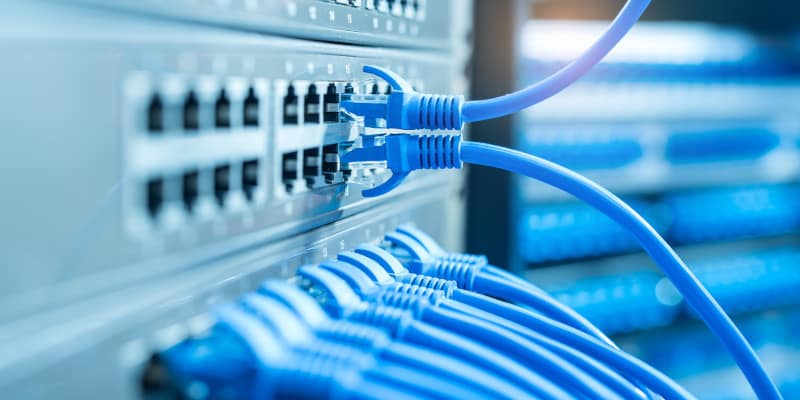 Some of the benefits of structured cabling include reliable networks, discrete wire installation, high speed data transfer, easy upgrades as your company grows, and organized wire management. Since cable installation is far more important than doing your home network and media cabling, it is important to put it into the hands of experienced professionals. Both developing a plan for structured network cabling and installing it are governed by industry standards that are not flexible. These standards specify the way offices, apartment buildings, data centers, and other facilities are wired for voice or data communications, down to the types of wiring required. By taking the time to ensure your structured cabling network system is installed correctly, you will have everything you need for the future – no matter what type of hardware you choose to add to your system, you can rest assured it will be supported. We can even provide verified reports that the cabling has passed industry standards for qualification and verification.
We pride ourselves on doing your structured cabling correctly the first time and with minimal disruption to your business operations. We don't just pull wire – we ensure it is integrated correctly and professionally into your building. When it is done properly the first time, adding to it or making adjustments in the future will be easier. A networking system is only as good as the infrastructure that supports it, so invest in structured cabling for optimal efficiency and scalability.
At i-Tech, we have all the tools needed to ensure your facility is handled correctly, from HEPA clean carts, interior and exterior lifts, OTDR's, Cat6 cable certifier, core drills, cable locators and much more.
Structured Cabling is used for many things within a business. The key things are data cabling for computers, servers, printers, IP cameras, routers and equipment that is attached to the network via a Cat6 cable.
Cables come in many types including Plenum Rated and Riser Rated. The cable type for your environment is important to ensure the safety of people in the event there is a fire. Riser Rated cabling is toxic if burned and when circulated though the HVAC system it could expose people to toxic gases from the Riser rated cables. Plenum cables are the best to install if you are unsure of cabling types. Plenum Cable is low smoke and non toxic. i-Tech purchases all plenum cabling to guarentee cabling meets building standards and codes.
---
At i-Tech Security and Network Solutions, we offer structured cabling service in Durham, Greensboro, Raleigh, Winston-Salem, Asheboro, Burlington, Chapel Hill, Charlotte, Clemmons, Concord, Kernersville, Lexington, High Point, Elkin, Fayetteville, Salisbury, and Thomasville, North Carolina, and Washington, D.C.
Similar Services We Offer: