Let us tell you all the ways our camera systems could benefit your business.
As children, we had the strong belief that our parents had eyes in the back of their heads. We were also told that others were constantly watching over us. As a business owner, have you ever wished that you could yield that power and have eyes everywhere? At i-Tech Security and Network Solutions, we offer camera systems that will let you do exactly that. We can develop a system specific to your needs and budget so that you can observe and record activity where it is most critical to do so. We offer a wide range of camera systems to ensure we fit the right system for each customer. We understand some users don's need all the bells and whistles, and some do. We offer many integrations to video management systems that include LPR (license plate recognition), video analytics, appearance search, object search, vehicle search, unusual motion detection and much more.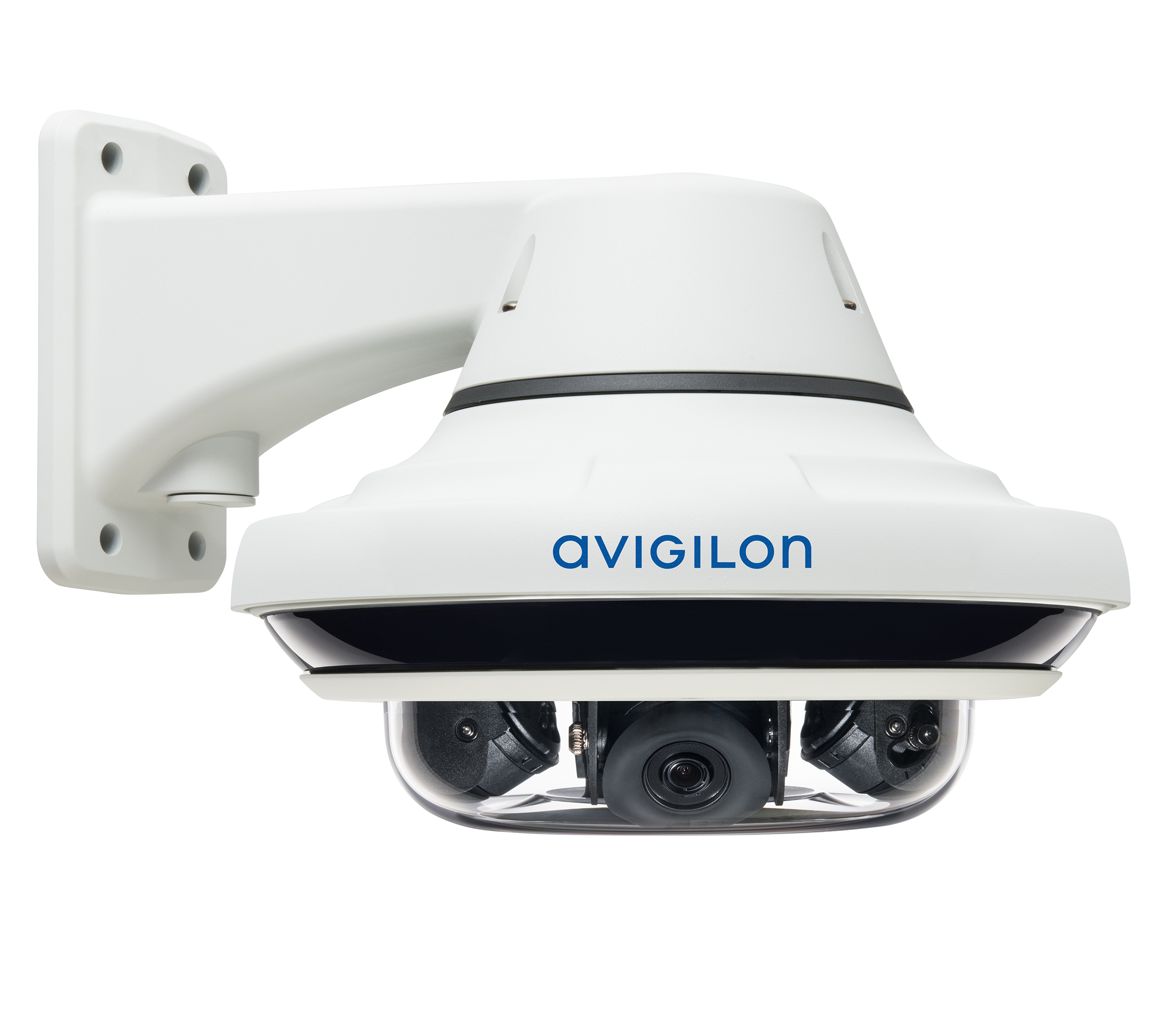 Demo a Camera System at i-Tech Security – Test Drive the System before you purchase
We love to demo systems and show customers the advantages of having the right camera system. If your business uses a camera system heavily, we can probably help reduce the time it takes to find a particular event. Call us today to arrange a time to stop by our office in Clemmons, NC to check out the latest Professional or Enterprise Camera System from Avigilon, Exacq, S2 Security and Milestone Systems. We have around 35 cameras to look at, test out and see the difference in quality of products, cost and functionality. All IP Cameras are not the same, some are for "looks" and some are professional cameras made for every environment to capture the best quality for evidence when needed. We are happy to demo our systems to show how mobile access, high tech cameras, cloud access, local clients and remote clients work. If you are interested in seeing License Plate Recognition or Video Analytics, we can demo that as well. Contact us today to setup a demo.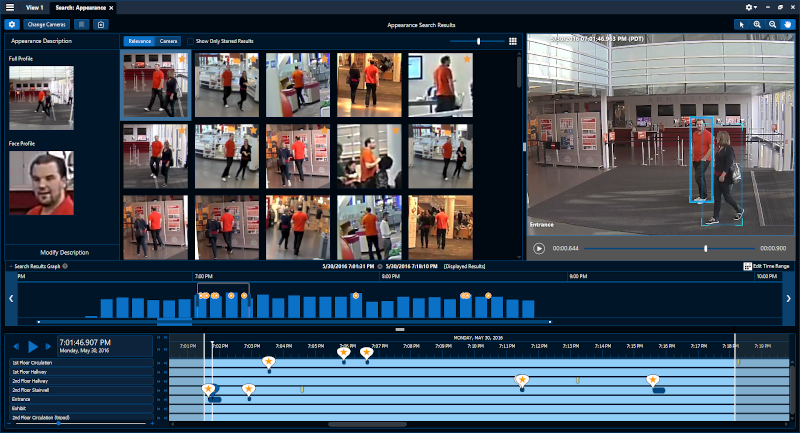 Camera systems are obviously a good way to deter theft, both from customers and employees, as well as have evidence to prosecute if desired. However, there are several other ways in which they can be beneficial. For example, if someone is injured on your property and accuses you of negligence when they actually are trying to commit fraud, you'll be able to readily get the case dismissed if you have a recording. Another benefit is watching customer movement in a store to see where improvements could be made to boost sales. Camera systems can also be helpful for seeing where production and processes could be improved, and just the presence of cameras can make workers more cognizant of time management when they are aware that you'll know when they are not staying on task.
Reliable and Trusted Commercial Security Solutions
Streamline Searching Video
Most Professional Video Management Systems provide users the ability to search video, fast! If you have ever spent hours looking through video recordings from a lower end system, you probably felt frustrated. With Professional Camera Systems, you can narrow search results, pick areas to search, and even tell the system to find a female in red clothes. Professional Camera systems provide users many tools for searching video which is not understood by people that never get to see a good Video Management System in action. Call us today for a demo to see how a professional camera system can help you with accurately and efficiently searching video.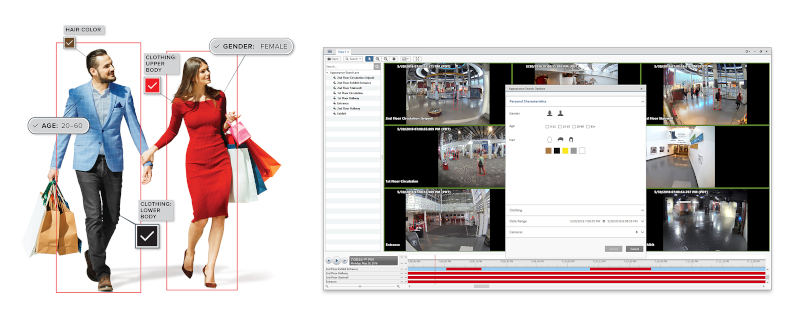 Deter Theft & Avoid Fraud with Video Security
Camera Servers
Professional Video Management System can be stand alone systems or integrated into your existing networks and virtual environments. i-Tech recommends installing a new standalone server for your new camera system if you are planning to have 16 cameras or more. One reason we would recommend a new server, is to handle the recordings and video streams. Camera servers are build for the demanding High Definition Camera Video coming in, and High Resolution streams going out to local and remote and mobile clients. Camera Servers usually have Zeon processors with graphics cards, upgraded memory and utilize an solid state hard drive for the operating systems and video management software. The storage drives are usually Enterprise Class Surveillance drives in a Raid Configuration depending on your needs. i-Tech offers a few options for cameras servers depending on customer budgets, we offer custom built camera servers that have a 5 Year Warranty which are more cost effective than others. Another camera server solution we use is Seneca Servers, these servers also have a 5 year warranty and are very solid devices. We deploy Seneca servers for all Enterprise Video Management Solutions that have multiple sites, video analytics and systems with over 100 cameras. i-Tech offers next day repair for all Seneca Servers.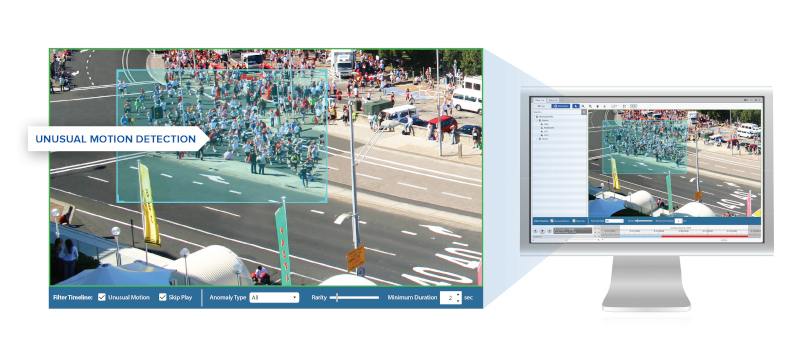 Another Appliance we like to use is the Avigilon Camera Server, Avigilon servers are built to last and provide an end to end solution for single to multi site camera systems using standard video to Video Analytics. Avigilon provides a wide range of servers to support 4 cameras or unlimited cameras. Call us today to schedule a demo of an Avigilon server in action.
A top-notch organization.
"This is a top-notch organization that you can count on to do things right and professionally. They communicate well (rare these days) and also provide options to help make your project a good fit. I highly recommend. A+."
★★★★★ -Bill B.
Our Process for Implementing a new Camera System
i-Tech Security based in the Winston Salem area installs around 5,000 cameras yearly in North Carolina, we know cameras inside and out. If you have an existing camera system, or are looking for a new Video Management System we would love the opportunity to work with you.  We have a wide range of cameras from Solar Powered Cameras, PTZ Cameras, Fixed Cameras, Indoor Cameras, Outdoor Cameras, License Plate Cameras, Analytic Cameras and much more.
We work with customers to identify their needs and make recommendations based off our 20+ experience with Commercial Camera Systems. Their are many things to factor when rolling out a new IP Based Camera System. Will the camera system be stand alone, will our network support it, who will manage it, what cameras are going to be best, how much storage do we need to keep video, can we use our Virtual Machine for the Video Management System, will the cameras capture facial images in the dark. We are here to answer all your questions and make sure you get the right system for your business.
Whether you are interested in just camera systems or would like to integrate with access control and other security analytic features, we recommend reaching out so that we can assess your business and discuss all your options.  Call today to schedule a consultation.
Service Areas for Camera System Solutions
i-Tech Security provides camera system installations for many cites and surrounding areas of Greensboro, Winston-Salem, Charlotte, Raleigh, Cary, Fayeteville, Burglingon, Lexington, Mocksville, Chapel Hill, High Point, Durham, Mebane, Salisbury, Concord and many other areas. Call us today to see how we can help.
---
At i-Tech Security and Network Solutions, we offer camera systems in Durham, Greensboro, Raleigh, Winston-Salem, Asheboro, Burlington, Chapel Hill, Charlotte, Clemmons, Concord, Kernersville, Lexington, High Point, Elkin, Fayetteville, Salisbury, and Thomasville, North Carolina, and Washington, D.C.
Similar Services We Offer: